Hey all! I'm Jess! Thank you so much for coming to check out my Scandinavian Modern Christmas Home Tour! Of all the tours I've ever shared this one is BY FAR my very favorite! Let's get started with my very favorite shot: The Fireplace Wall!
Living Room Christmas Decor:
Not only do I love the way the "joy wreath" and garlands pop against the black painted brick, but I absolutely love the way my built in nook came together. I just cut black mat board to fir the opening and placed it behind the shelves, in front of the wallpaper in this nook. Then I added all of these gorgeous elements, giving my Nativity the focus it deserves. The evergreen art is new and is from Kirklands. In person it almost looks like it's printed on glass giving it a really neat look.
Initially this nativity was too deep for the shelves, but I trimmed the base using my table saw! Now it can fit on any shelf.
The big "Joy" wreath has battery powered LED lights, which is awesome because I didn't have to worry about hiding a cord.
This flocked tree is new to us, but there's a story behind it. Last year when my Father-in-law was sick and dying of cancer, we set this flocked tree up for him and my mother-in-law at their house. Despite his sickness, we all had fun cracking jokes about the flocked tree…. mainly in the form of "Flock" jokes. Things like, "This tree is a flocking mess", "The tree is all flocked up", and "Oh Flock". This year he's in heaven and we've got the flocked tree. I couldn't help but remember the laughs we had while setting up the tree with him for his last Christmas.
In the dough bowl I've got bundles of Christmas cards displayed from past years. Each year I just tie a ribbon around that years stack and we love looking through past years cards.
I added some new red throw pillows that are festive, but don't necessarily "scream" Christmas.
Because we don't have a mantel, our stockings are hung by our windowsill! I attached the asymmetrical garland using a few tiny nails, and I love how it frames the window.
Christmas Decor in the Kitchen:
Heading into the kitchen I added a simple green faux garland to our archway. On the side of the fridge cabinet I used an old shutter that I painted red to display our Christmas cards.
The only decor I added in the kitchen was a poinsettia, and some festive hand towels. I also swapped out the rug for this vintage runner that I was storing in our basement.
These little pops of red make the entire kitchen feel festive. I also framed one recipe from each of my Grandma's to place on the back counter. These make me smile every time I see them.
I absolutely LOVE the view looking towards the dining room. I feel like our brass pendants were MADE for Christmastime!
Not long ago I painted our island this moody grey/green which is Sherwin Williams "Night Owl". It really feels like the perfect color for Christmas decorating!
Christmas Decor in the Dining Room:
Each season I enjoy swapping out the photo ledge for seasonal art. I just use a command velcro strip to ensure that each piece doesn't tip off the ledge. The moose photo was taken by a friend, but there's a similar print on Minted. You can find the Santa Canvas here.
On the table first I put down my macrame runner. Then I gathered all of my candlesticks and red taper candles and I love how all the candlesticks look mixed together.
On the buffet at the end of the dining room I have my entire Department 56 Christmas village set up! Every morning my oldest stumbles out here in the dark and plugs it in, and is mesmerized by all the details.
Decorating Kids Rooms for Christmas:
Speaking of the kids, I added a few decorations to each of their rooms. In my daughter's room she chose a white tinsel tree which she decorated with pink and gold ornaments! It also includes her sentimental ornaments.
In the boys' bedroom we set up our full size tree from before we got the flocked tree! At 9 and 11 they already have SO many ornaments. I guess that's what happens when they each get 3-4 new ones each year! Their tree is FULL of sentimental ornaments.
Thank you so much for stopping by to check out my Scandinavian Modern Christmas Home Tour today! I've included shoppable images below for many of the sources throughout my Christmas tour.

I want to thank Carrie from Lovely Etc. for including me on this Very Merry Christmas Home Tour! My tour is actually the last one so there's TONS of others that you can click on and check out!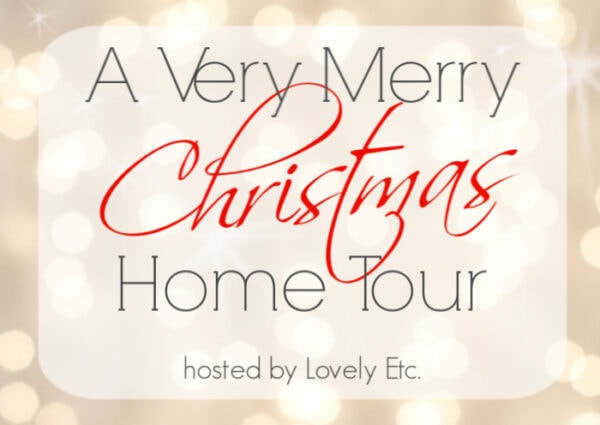 Monday

Lovely Etc * Thrifty and Chic * Boxy Colonial * Chatfield Court * A Brick Home
Tuesday

The Striped House * Casa Watkins Living * Up to Date Interiors * Our House Now a Home * All Things With Purpose
Wednesday

Green With Decor * Lehman Lane * Jonesville * Sweet Pea
Thursday

DIY Beautify  * What Meegan Makes * Sunny Side Design * Bright Green Door